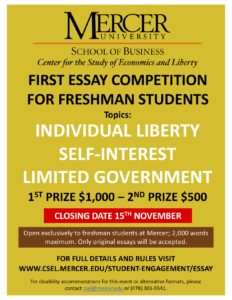 Motivation
Individual liberty, self-interest, and limited government are key elements for personal flourishing. And personal flourishing is a necessary condition for economic prosperity. This essay contest invites reflections on these topics. Some prompt questions include:
What are the mechanisms through which individual liberty, self-interest, and limited government lead to personal flourishing?
How does personal flourishing affect social prosperity?
What are the main threats to these three elements in current times? And what are the economic or philosophical arguments to best respond to such threats?
Rules
The essay contest is open only to freshman students at Mercer University.
Essays should verse on the role of individual liberty, self-interest and/or limited government.
Essays must be submitted electronically (marroquin_a@mercer.edu) by NOVEMBER 15, 2021. They must include name, e-mail address, and student ID.
Essays must be written in English only, and must be between 1,500 and 2,000 words. Spelling or grammatical errors will affect the quality of the essay.
Essays will be judged based on their argumentation, originality and clarity. Mercer's honor code applies. Plagiarized essays will be withdrawn from the competition.
Essays will be evaluated by a committee of faculty members from the School of Business. Judges' decisions will be final.
There will be prizes for the best two essays. First place will get $1,000 and second place $500.
All participants will be notified of the results via email by November 30, 2021.
For more information e-mail marroquin_a@mercer.edu or csel@mercer.edu.